News
11 March 2022
:
UdeC undergraduate student carries out research stay in the United States
Esteban Henríquez is under the tutorship of Dr. Manuel Solano, CI²MA researcher
"From the beginning it has been a great experience. From the first week I have been able to work on the problem that we are tackling in my research, learning concepts that I had never seen before and integrating them", says Esteban Henríquez Novoa, a Mathematical Civil Engineering student of the Universidad de Concepción, about the particular experience he is living these days. From February to next April, he is carrying out a research stay at the University of Arizona in the United States, collaborating with Dr. Tonatiuh Sánchez-Vizuet, an academician at the Department of Mathematics from that North American campus.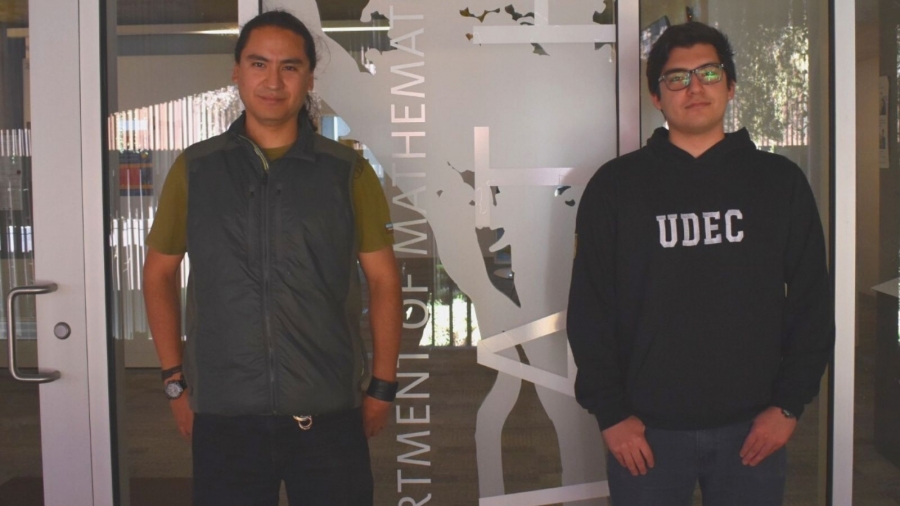 Esteban's research visit was possible thanks to the collaboration that Sánchez-Vizuet has kept for years with the researcher at the Center for Research in Mathematical Engineering, CI²MA, of the UdeC, Dr. Manuel Solano Palma, who is also an academician from the Department of Mathematical Engineering of the Faculty of Physical and Mathematical Sciences in that university and a researcher of the Center for Mathematical Modeling of the Universidad de Chile. "At the beginning of 2021, Esteban contacted me because he was interested in starting to conduct research. We talked and I gave him a topic to work on related to discontinuous Galerkin methods. He worked very well. Then he expressed his interest in doing an internship, for which I did not hesitate to support him, given his good performance, commitment and responsibility. That is why I decided to finance his stay with my Fondecyt 1200569 project", Solano explained.
Meanwhile, the Director of CI²MA, Dr. Rodolfo Araya Durán, positively valued this initiative and indicated that "the development of stays for our students in recognized research centers around the world is very important for our Center. We wish Esteban every success in his time in Arizona, and congratulate Dr. Solano for this significant achievement".
"With Tonatiuh Sánchez-Vizuet", Solano explains, "we have been working on various topics of numerical analysis related to discontinuous Galerkin (DG) methods applied to plasma physics problems. In this context, with Esteban we are working on shape optimization problems and the main objective of the stay is for him to internalize these topics. On the other hand, a second objective is to be able to interact both with students from the University of Arizona and with researchers and thus in the future be able to apply to a Ph.D. programm in the United States".
"I have learned a lot with Professor Tonatiuh and it has been very entertaining and enriching to collaborate exchanging ideas on a blackboard with him", Esteban affirms. "I have had the opportunity to attend weekly seminars given by different US mathematics researchers, thus being able to learn a little about the different areas of mathematics that people are working here. I have also had the opportunity to attend classes as a listener of the first year of the doctoral program in applied mathematics at the University of Arizona, which has allowed me to show that the level that our professors offer us in Concepción has nothing to envy compared to the doctorate classes here, which motivates me to continue my studies abroad".
"For me", Solano points out, "it is very important to encourage my thesis students to carry out research stays abroad. In fact, 8 out of 10 of my students have spent time abroad to perform research. Only two could not make stays abroad due to external reasons such as the pandemic".