News
10 March 2022
:
CI²MA researchers are ranked at the forefront in Chile in the international ranking
Gabriel Gatica and Raimund Bürger are among the only three scientists from institutions in the country highlighted by Research.com measurement in Mathematics
Researchers from the Center for Research in Mathematical Engineering, CI²MA, of the Universidad de Concepción, Dr. Raimund Bürger and Dr. Gabriel Gatica Pérez are among the three academicians from Chilean institutions with the highest scientific productivity in the field of mathematics.
This according to the results, recently published by the global scientific information platform Research.com, which released the world ranking of top researchers at a global level in various areas of knowledge.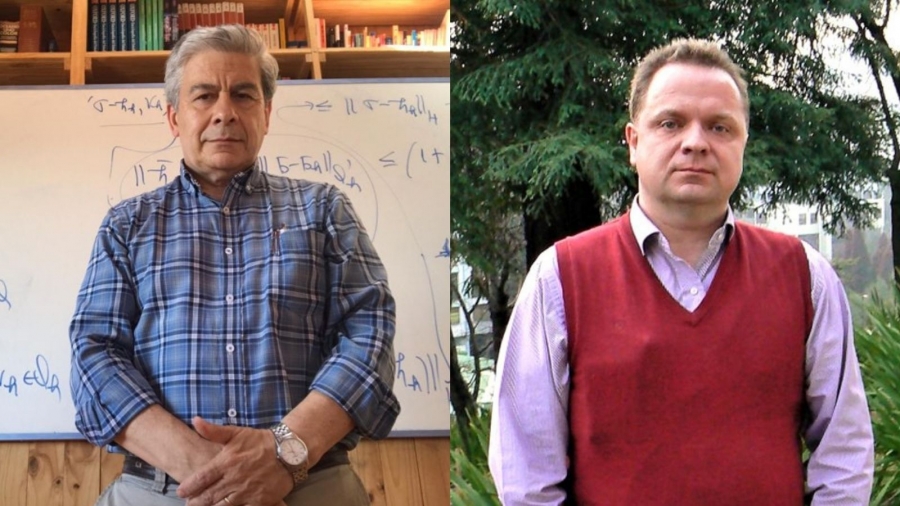 "This is a great and well-deserved recognition for Drs. Bürger and Gatica for their long and productive career. On the other hand, it is a real pleasure and pride to have such illustrious academics among the researchers of our center", Dr. Rodolfo Araya Durán, director of CI²MA, highlighted regarding this recognition of the quality of the associate researchers of the Partial Differential Equations Numerical Analysis Group (AN of PDEs) of the Center for Mathematical Modeling, CMM, from the Universidad de Chile.
Dr. Bürger, Subcirector of CI²MA, presents in the ranking, an h-index (which measures productivity and impact of publications) of 30, 144 publications and 4,327 citations, rising to 2129th place globally and in third national position, for the analyzed period. "By the way, achieving this position is due to the fact that my scientific production has been carried out in collaboration with foreign researchers, colleagues from UdeC and other local universities, postdoctoral researchers, and doctoral students", he said.
The also Director of the PhD Program in Applied Sciences with a minor in Mathematical Engineering at the UdeC emphasizes that many of the citations considered in the measurement correspond to publications made before arriving at the UdeC since, he details, "the h-index, or the number of citations that this ranking rates, refer to the entire life of a researcher and vary only very slowly", added Bürger.
"In my case, by virtue of several research projects awarded in 2021 (Fondecyt, Basal and Anillo) and, considering both my age and the fact that five doctoral students are currently preparing their theses under my supervision (all with international co-supervisors), I am optimistic of being able to keep maintain my personal position in this ranking in future rankings", he added.
"On the other hand", stated Bürger, "I am happy to have contributed to the UdeC appearing in this ranking. To achieve this, certain institutional policies have been important, where I highlight the high demand for publications from doctoral students, as well as the excellent support we have received from the Vice-Chancelor for Research and Development (VRID)".
"Thus it has been possible to prepare a significant number of articles in high-impact journals," he continued, "which tend to be cited more frequently than publications in less important journals. These citations are the ones reported by this ranking. As my entry is similar to the results generated by other bibliometric indicators (such as Scopus and Researchgate), I see that the impact of my scientific production is being valued not only in mathematics journals, but, in my case, also in journals of engineering (chemical, metallurgical, sanitary, among others) where I publish the results of applied research. Although my discipline of origin is mathematics, it gives me great satisfaction that the proposed models and methods are well received and used in the applied fields".
In the same way, the Municipal Award for Applied Sciences of Concepción 2020, explained that "my position depends on an objective indicator (number of citations) and not on a selection process, decision by a group of experts, or opinions of a jury or similar entity. Indeed, this indicator measures the impact of the research. Somehow, my research trajectory at UdeC, but also applications to Conicyt (now ANID) projects, mostly successful, have been marked by previous reflections on what research topics could make my scientific profile converge with applications of interest. Such issues have been related to the geographical and economic reality in Chile; one of these has been the modeling of solid-liquid separation and flotation processes in mining. Another application is the spread of infectious diseases considering the geography of Chile".
Meanwhile, Dr. Gatica, who appears in second national place in this global ranking, placing himself in position 1,831 worldwide in the area, with an h-index of 32, 166 publications and 4,088 citations until last December 31. "My first feeling when I found out was once again one of great joy and pride, mainly because of my family, who have always supported me, but also by the Universidad de Concepción, an institution in which 'I have lived' for 46 years", Gatica explained.
The scientist assured that "this achievement has also been possible, thanks to the joint work, both with other national and foreign researchers, as well as with undergraduate and postgraduate thesis students, so it is fair to attribute an important part of the respective merit to them", and he added that this ranking "mainly considers the H index, which measures the relevance of the research that is carried out through the number of citations of the articles that one publishes. Certainly, to have citations one must first publish, so the number of articles in journals also directly affects the calculation of said index".
"In my particular case", Gatica explained, "for several years now I have been obtaining a no less number of papers per year, and at the same time observing a sustained growth in the citations that they and previous works are generating, so that I believe the information provided by Research.com is consistent with those facts".
From a historical perspective, Gatica explains that "when, at the beginning of the '90s, we began to take off in 'Applied Mathematics' at the UdeC, which has been led to this day by our specific area of research, AN de EDPs, we had as a national point of reference the Department of Mathematical Engineering of the U. de Chile, which, together with the Faculty of Mathematics of the PUC, led the development of the Mathematics discipline in Chile at that time".
"Thanks to the significant and sustained support, both from the UdeC, represented mainly by Rectors Parra and Lavanchy, and from our joint initiatives with the Center for Mathematical Modeling of the U. de Chile, namely, the FONDAP Program in Mathematics Applied Conicyt and the Basal Projects of the ANID", the scientist detailed, "the AN of EDPs achieved a significant development in these three decades, which is today widely recognized nationally and internationally".
"Precisely", Gatica deepened, "one aspect of ours that became increasingly visible and prominent, especially in comparison with other universities and areas of Mathematics, was our growing scientific productivity, much of it in the best specialty magazines. Reliable proof of that is the result of a ranking prepared at the beginning of 2021 by Stanford University, which places 12 academics from UdeC (including Raimund and myself) in the top 2% worldwide".
Gatica explained that, currently, "although the Universidad de Chile clearly surpasses us in the number of areas of Mathematics that stand out at the international level, which makes it appear above us in various international evaluations, this is not necessarily an absolute characteristic, proof of which is the present ranking, so that we can say, without false modesty, that we are relatively on par".
Finally, regarding the projections of this institutional positioning, Gatica highlighted that "we are precisely starting this year, together with the U. de Chile and six other national universities, the fourth version of the Basal Project of the ANID, an initiative that has the leading participation of the Bi-Regional Research Group in AN of EDPs that we have managed to conform together with researchers from the U. del Bío-Bío, UBB, and the U. Católica de la Santísima Concepción, UCSC. Added to this are two Anillo projects led by members of this group, which have also started their work a couple of weeks ago".
"Both in one of these Anillo and in the Basal project explicitly contemplate as a main objective, the official creation of a 'Bi-Regional PhD Program in Numerical Analysis and Scientific Calculus' , which, truth be told, has been operating in practice, for a decade, through multiple research collaborations and cross co-directions of postgraduate theses between researchers from the three universities".
"The positioning that Research.com has given us should make it even more possible to put such a program in place. Reciprocally, a successful development of this interuniversity PhD program will directly influence the eventual maintenance of said position and its very likely extension to other researchers, both from the UdeC, as well as from the UBB and the UCSC. Soccer-wise speaking: the respective rectors 'have the ball", Gatica concludes.