News
23 October 2020
:
Subdirector of CI²MA obtains the Concepción City Hall Science Award
Dr. Raimund Bürger has an outstanding career at the UdeC
Researcher has an outstanding career at the UdeC, based on scientific rigor and international collaboration, managing to obtain funding for projects during 15 uninterrupted years.

In his lines of research, the scientist addresses problems in various sectors, with great potential for applicability, such as mining, wastewater treatment, vehicular traffic, and the spread of diseases such as COVID-19.
In the afternoon of this Wednesday, the academician Dr. Raimund Bürger, was officially notified of having been awarded the Concepción City Hall Prize of Sciences. Bürger was nominated by Universidad de Concepción, UdeC, institution in which the has worked during the 15 last years.
In March 2005, Bürger traveled from his native Germany to join the Department of Mathematical Engineering at the Faculty of Physical Sciences and Mathematics at UdeC. Before, between 1997 and 1998, the European academician had made a stay in the Department of Metallurgical Engineering of the Faculty of Engineering of the UdeC. However, everything began to take shape many years before.
Professor Hermann Alder Weller, a former academician of the Department of Mathematical Engineering at UdeC, had contact with colleagues in Germany, including Wolfgang L. Wendland, who would be Bürger's PhD advisor at the University of Stuttgart. "This was about the late '70s and early' 80s", UdeC researcher explains. "A relative of Wendland's wife was a professor at the German School (in Concepción) and he was invited here in 1981. We know that these were difficult times, nothing was less popular than traveling to Chile at that time, but he traveled and made a contact. That contact made an exchange possible and finally, as a result of this contact and projects in collaboration, I had the opportunity to join Wendland's group in Germany. He mentioned that there were funds to travel and I decided to start working on a sedimentation project that he proposed to me. All this, and the contacts he had with various academicians from the UdeC, allowed me to first visit to Chile 25 years ago".
Since then, Professor Bürger has developed an outstanding academic and research career in our country, permanently standing out in the official rankings of scientific productivity, both nationally and internationally. Indeed, 120 out of more than 160 of his publications in specialized journals with a high impact factor correspond to the outstanding career that he has developed since joining the UdeC.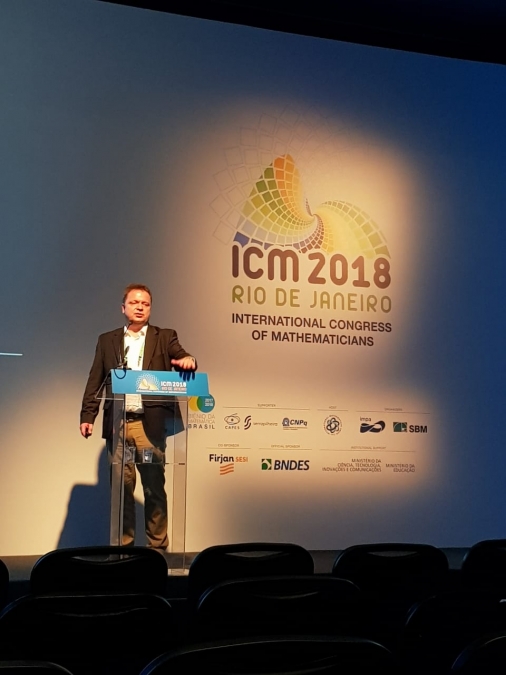 In addition, among other indicators of excellence, Bürger has been part of the editorial committee of specialized journals in the area, directed about 20 doctoral theses, and participated with presentations in more than 230 international conferences on the specialty. In particular, and precisely as an explicit recognition of the international relevance of his research, both in quantity and quality, in 2018 he participated as a guest speaker at the International Congress of Mathematicians, the world most important event of the discipline, which took place in Rio de Janeiro, Brazil.
In turn, Bürger has had a leading role in coordinating various scientific events around the world. Among them his role as a permanent member of both the Organizing Committee and the Scientific Committee of the Chilean Workshop on Numerical Analysis of Partial Differential Equations, Wonapde, stands out. Wonapde is a congress that has been held, since 2004, every three years and has gathering together in Concepción, the most important exponents of applied mathematics in the world.
On the other hand, the construction of a powerful international scientific collaboration network with links in various countries, such as Sweden, Spain, India, France, the United Kingdom and the United States, among others, stands out in Professor Bürger's career.
"As a European citizen, I am interested in collaborating with colleagues from Europe. I would highlight the collaborations that I have developed with Pep Mulet from the Universitat de València in Spain and with Stefan Diehl from the Lunds Universitet in Sweden, with whom we have developed a significant number of publications, but the most important thing is that these collaborations have also made it possible the exchange of undergraduate and graduate students, in both directions. There have been several students from our program who have been directed by them, and we have also had students from them making stays at UdeC. In addition, graduates of our Mathematical Civil Engineering ungraduate program are about to enter to pursue their Ph.D. degrees in Lund. There is symmetry in this collaboration", he explains.
Bürger also collaborates permanently with other prominent academicians such as Enrique Fernández-Nieto at U. de Sevilla (Spain), Gerardo Chowell at Georgia State University (USA), Cristophe Chalons at U. of Versailles (France), and Ricardo Ruiz at U. of Monash (Australia), among others. "We have had collaboration for research, they have received our students, they have co-directed theses. We are waiting for them to send their own students to the UdeC later on", he says.
Between 2007 and 2018 and again since October 2020, Bürger has been Director of the Ph.D. Program in Applied Sciences with a minor in Mathematical Engineering at UdeC, highlighting a high number of foreign students enrolled, mainly from the Southern Cone and also countries of Central America, in addition to a permanent certification of the program by the National Accreditation Commission, CNA. The academician recognizes having held this position for eleven years, as one of the most important milestones of his career at UdeC. "I have managed to work with 12 Ph.D. students, who have finished their thesis and another three who are now on the way to graduate".
At the UdeC, in addition, Professor Bürger has been the Subdirector of the Center for Research in Mathematical Engineering, CI²MA, since its foundation in 2009. Between 2013 and 2016, he was director of a Team Project from Conicyt (current ANID) and is one of the main researchers of the local group of mathematicians from the three main regional universities (UdeC, U. del Bío-Bío, U. Católica de la Santísima Concepción), who are also members of the Center for Mathematical Modeling of the U. de Chile, as external associate researchers. In addition, Bürger has been an associate researcher at the Center for Water Resources for Agriculture and Mining (CRHIAM), since 2013. "Since my arrival at the University, I have had continuity in (awarding) Fondecyt projects", he details.
Regarding the Team Project that he directed, Professor Bürger explains that it brought together more than ten researchers "from different universities, experts in numerical analysis that contemplated funds, among other items, for exchanges, travels, stays, and financing post-doctorates. In addition, we were able to provide some resources and generate an important contribution to the construction of the Hermann Alder Weller auditorium at CI²MA", he details.
His lines of applied research, meanwhile, are closely related to needs that arise in various industrial sectors such as copper mining and water treatment in sanitation companies and, more recently, in matters related to health. On this last point, his collaborations with foreign experts to model contagion scenarios for diseases such as the Hanta virus, the AH1N1 flu, and the COVID-19 stand out.
Recognition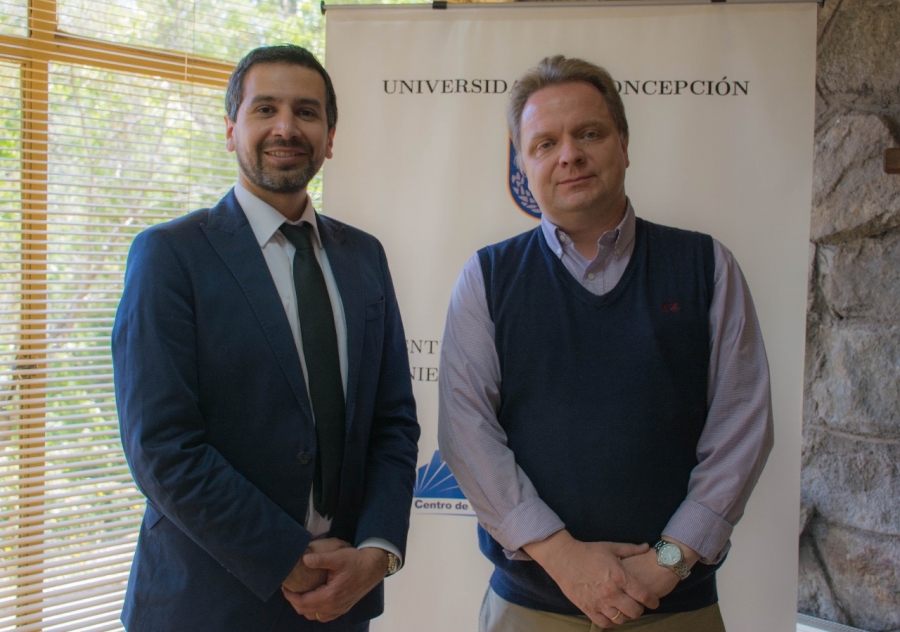 The City Hall Science Prize is awarded annually in the context of the anniversary activities of the city of Concepción, which in this occasion turns 470 years. "I am very happy to have received this award, which I consider also a recognition of my contribution to the development of Concepción as a scientific city. I am very happy that, in this way, the technical work I made through research, training of undergraduate and postgraduate students, and the creation of international collaboration networks is being valued. I thank the jury for the distinction and the authorities of the Universidad de Concepción for proposing my name", Bürger said about obtaining this recognition with which, according to the corresponding regulations, Concepción City Hall seeks to recognize the work of residents of the city who, by virtue of their excellence and creativity, have made a significant contribution to their respective areas of knowledge.
The Dean of the Faculty of Physical Sciences and Mathematics of the UdeC, Dr. Roberto Riquelme Sepúlveda affirmed that Bürger still has an important professional future and that "this award is well deserved and his productivity worldwide reflects this" and emphasized that, recently, the researcher "had the opportunity to work on the covid issue, in which he already has results in modeling epidemic diseases. It is remarkable because it is a research work in which knowledge advances and science is for all Humanity. These studies become very important to make decisions to mitigate and control, in addition to evaluate the effectiveness of some government measures".
The university authority also explained that Bürger "has always been active in training advanced human resources, which is reflected in the large number of doctoral theses that he has directed. He has not only been committed with creating new knowledge, but also with transmitting it through conferences and particularly transferring it to his students by training them in topics that are at the forefront of research in their area. His international contacts facilitate that the students, both from the Ph.D. and from the Mathematical Civil Engineering program at UdeC, can work collaborating with other leading researchers around the world".
Meanwhile, the Director of CI²MA, Dr. Rodolfo Araya Durán stated that "it is a more than deserved award for the invaluable contribution of Bürger to the scientific development of the city and the country. It is a pride to have a researcher of the importance of Bürger within the CI²MA researchers. My congratulations also go to his students and very particularly to his family, which has undoubtedly been a great support for his academic development".