News
24 October 2019
:
Seven new PhDs obtained their degrees at CI²MA last year
Last Friday they received their doctoral medals in UdeC official ceremony
Graduates of the Doctoral Program in Applied Sciences with a minor in Mathematical Engineering from the Faculty of Physical and Mathematical Sciences of the Universidad de Concepción, received their doctoral medals from the Vice Chancellor Dr. Carlos Von Plessing and the Dean Dr. Roberto Riquelme. They are Camilo Mejías, Ramiro Rebolledo, Cinthya Rivas, Felipe Vargas and Patrick Vega; meanwhile, Gabriel Cárcamo and Eduardo de los Santos, also graduates, did not attend the ceremony. All of them carried out their thesis under the guidance of researchers from the Center for Research in Mathematical Engineering, CI²MA.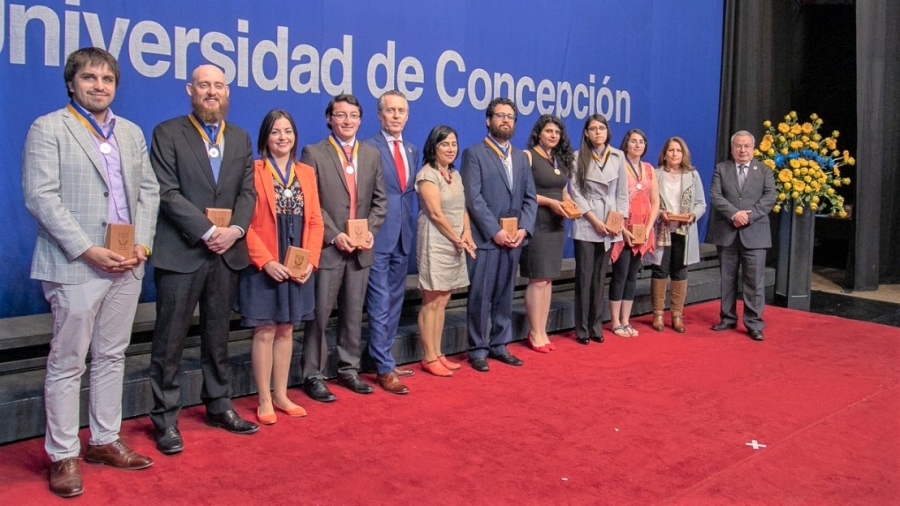 Cinthya Rivas obtained the highest academic degree, after developing her thesis, directed by researchers Dr. Manuel Solano and Dr. Rodolfo Rodríguez, who is also the Program Director. She explains that the results of her study, "through mathematical and computational modeling, allow to improve solar cells energy absorption in the panel. It was a long and arduous process, but I am proud to have finished it. I studied Mathematical Civil Engineering at the UdeC, so it was a natural continuation of my studies, to enter this Doctorate that is housed in CI²MA, where we have excellent professors, what I noticed when I performed my stay abroad, at the University of Delaware", the researcher explained about her collaboration with Dr. Peter Monk.
In turn, Felipe Vargas, explained that his postgraduate experience was very good. "About this program, I was motivated by the fact that numerical analysis in the UdeC is very prominent, and that was my area of ​​interest. As one advances in the undergraduate career, one realizes that the professors of the Ph.D. program are very recognized worldwide, making it a very good place to do the Doctorate. I believe that, beyond information and knowledge, they gave us many skills and abilities to continue in the research career, and one of the most prominent party of it is the internship abroad that is not something frequently seen in other programs. I spent two months in Portland, United States, and that allowed me to broaden my vision of things and, at the same time, realize that what you have in the UdeC is very good in comparison with the international level", he explains about his research stay in which he collaborated with his co-thesis director, Jay Gopalakrishnan.
The Doctoral Program in Applied Sciences with a minor in Mathematical Engineering, which is running since 1995, brings together all the academicians active in research of the Department of Mathematical Engineering from UdeC with some researchers from the Faculty of Engineering, and also from University of Bio-Bio and Catholic University of the Most Holy Conception. The CI²MA, created in 2009, houses the Program offering office spaces and seminar rooms to students. The Program has been continuously accredited since 1999 and currently has accreditation for 7 years until April 2025. The first graduate of the Program graduated in 2000 and, since then, a total of 54 graduates have been trained in it, permanently increasing the presence of foreign students from countries such as Colombia, Costa Rica, Cuba, Ecuador, El Salvador, Paraguay, Perú, Panamá and Venezuela.