News
19 August 2019
:
CI²MA PhD graduate will apply Mathematics in Forest Sciences
To predict scenarios in topics of interest in that research area
Since May of this year, Dr. Elvis Gavilán is part of the academic team of the Department of Forestry of the Faculty of Forest Sciences of the Universidad de Concepción, after having participated in an internal competition that began in October 2018. "My functions are mainly divided into teaching and research. In teaching the main task is to carry out undergraduate activities, either by teaching subjects or participating as a collaborating professor in them, as it will be, and also in postgraduate level where it is likely to teach a subject and also be part of master or doctorate thesis commissions of students of the Faculty of Forest Sciences, which is also part of the research field".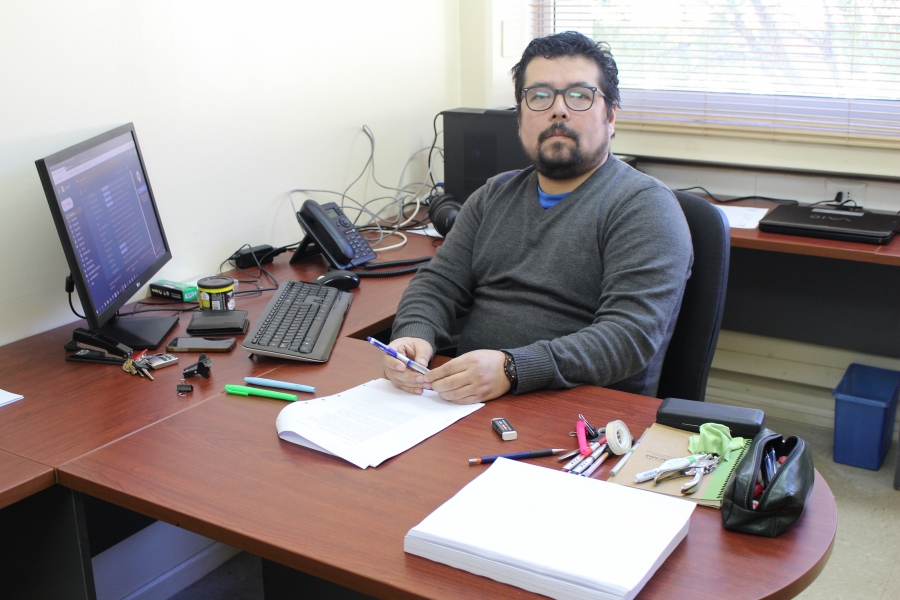 The role he currently plays, proposes new challenges from an academic and professional point of view. "One of the tasks with which I must fulfill is to formulate and present a project in the short term, in addition to participating in the training and improvement activities offered by the Teaching Department, and in science communication activities. For example, in October there is a congress and I plan to make a presentation focused on how the mathematics one knows is used in the field of forest science".
The academician emphasizes that, before entering to work in this area and interacting with his colleagues in Forest Sciences, he was not really aware of the enormous amount of applications that Mathematics can have to solve problems in this field of study. "There are several statistical models that are fundamental in Ecology, Phenology and Genetics when making predictions, systems of differential equations that model problems of Geomorphology, Entomology and Forest Fires and models associated with the conservation of the native forest that can be treated in the point of view of optimization, this by commenting on some applications".
Regarding his teaching responsibilities, Dr. Gavilán will teach undergraduate classes, but also expects to do so in the postgraduate programs of the Faculty: Master in Forest Sciences and Doctorate in Forest Sciences. "This second semester, I will be a collaborator in several subjects in the contexts of Biometrics, Entomology, Genetics and Forest Fires and I hope the postgraduate course of Introduction to the mathematical modeling of biological systems will be taught". About the elaboration of this proposal for the postgraduate course, the academic emphasizes that the interaction with his colleagues in the Department was fundamental. "There is a part of my PhD thesis, which has to do with biological invasions and where there are several equations that I think may be applicable in Ecology", he says.
Dr. Gavilán obtained the highest academic degree through the Doctorate in Applied Sciences with a minor in Mathematical Engineering program from UdeC, under the direction of the professors Raimund Bürger -academician of the Center for Research in Mathematical Engineering, CI²MA of the UdeC- and Gerardo Chowell-Puente (Georgia State University, USA), and after defending his thesis Numerical Solution of Space-Temporal Epidemiological Models, focused on the study and application of mathematical modeling techniques and numerical simulation of space-time models for diseases transmitted by vectors. "One of the things that I got in the graduate level is how to contact other people and researchers, and that is something that I learned in CI²MA. It was very important to interact with colleagues who are now professors too, attending internal seminars or congresses. All this allows one to now have a greater view on how to communicate to other researchers the way in which mathematics can be applied, generating new opportunities for collaboration. In all that, the CI²MA professors were fundamental, especially my thesis director Raimund Bürger and the Director Center Gabriel Gatica", he explains about his experience as a thesist student of the aforementioned postgraduate program.