News
9 April 2018
:
Director of CI²MA strengthened ties of UdeC in Costa Rica
The academician took part in a congress and performed two research visits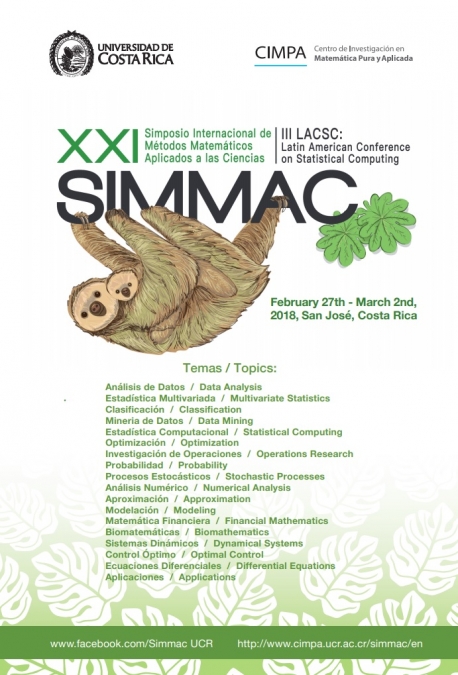 Gabriel Gatica, director of the Center for Research in Mathematical Engineering, CI²MA, of Universidad de Concepción, achieved a full schedule during his two weeks visit to Costa Rica. The first activity was his participation as plenary speaker at the XIXth International Symposium on Mathematical Methods Applied to the Sciences (XIX SIMMAC) at San José, developed at the headquarters of the Universidad de Costa Rica. Concerning his presentation, the UdeC researcher explains "I made a summary of the results I have obtained to date with my four collaborators from Costa Rica", referring to Filander Sequeira and Mario Álvarez whose doctoral theses were directed by Gatica; Bryan Gómez, current doctoral candidate at CI²MA also advised by him, and Juan Gabriel Calvo, who made a short-term postdoctoral stay at the UdeC, under his direction, after completing his doctorate at the Courant Institute of New York, United States.
Later, in the context of the Symposium and as a plenary speaker, Gatica participated in a meeting with the Dean of the Faculty of Sciences and with the Director of the Center for Research in Pure and Applied Mathematics (CIMPA) of the UCR, whose objective was to explore or deepen collaboration ties with that university. "It was very satisfying to see that I was one of the few present who had, for several years now, tangible and fruitful collaborations with academics not only from the UCR but also from Universidad Nacional (UNA) from that country. Personally, this is certainly a source of pride and satisfaction since everything started in 2012 when I was invited to give a course at the School of Mathematics of Latin America and the Caribbean (EMALCA), which was held that year at the Western Campus of UCR in San Ramón, instance in which I went there without many clear perspectives of my objective, and without even visualizing the interesting scientific consequences that arised later on. In particular, this contributed to further strengthen the internationalization of our doctorate, adding to similar initiatives carried out by the Deputy Director of our Center, Raimund Bürger, in Colombia, Panama and other Latin American countries", Gatica highlights.
During the second week of the visit to Caribbean lands, Gatica indeed visited researcher Filander Sequeira, who currently works at the Universidad Nacional (UNA) located in Heredia, where he gave a talk about the regular activities of CI²MA and its researcher. Days later, Gatica moved to San Ramón to also visit the academician Mario Álvarez, giving the lecture titled The Concepción – San Ramón Scientific Connection: Mixed Finite Element Methods for Nonlinear Coupled Problems.