News
11 November 2016
:
UdeC undergraduate students to stay in Canada
The CI²MA managed this experience for students of Mathematical Civil Engineering.
Three students of Mathematic Civil Engineering at the University of Concepcion will be admitted to a two-month stay in the Mathematics at Simon Fraser University, SFU, located in Vancouver, Canada. This, thanks to the management of the Center for Research in Mathematical Engineering, CI²MA, Gabriel Gatica, who a few months ago was recontactado by his pair of that North American university, Nilima Nigam, to manage the visit of undergraduate students wishing to collaborate with Researchers from SFU.
"Nilima and her colleagues were very happy and satisfied with the stays that Ernesto Cáceres and Sebastián Domínguez had previously held in SFU, which is why she expressed her interest in resuming this academic experience", explains Gatica.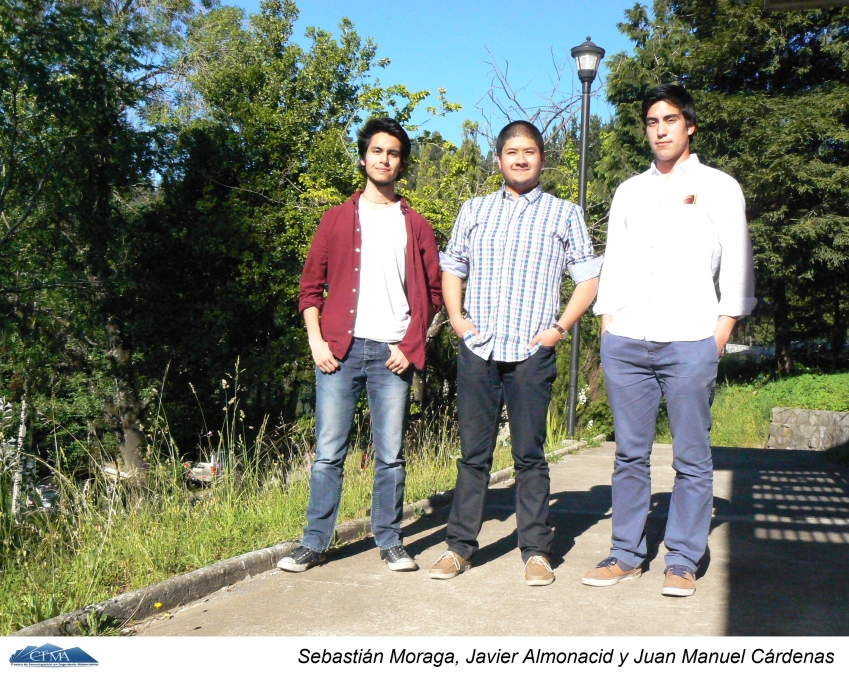 The students, chosen according to their curricular history and academic performance, will be in Canadian territory, during February and March of next year, which will allow them to know the way of work of scientific researchers with international renown. Of those selected, who is most advanced in the development of his undergraduate studies, is Javier Almonacid.
"I am currently developing my title memory under the guidance of CI²MA researchers, Gabriel Gatica and Ricardo Oyarzúa, in Methods of Mixed Finite Elements, particularly in one for the Boussinesq equations, thanks to which it is possible to model transfer processes of heat by natural convection", details and explains regarding the nomination that "I receive it with great joy and gratitude, as it is an opportunity to complement my undergraduate studies and that comes just before the end of these. I hope to be able to contribute with my knowledge to the investigative work of the Department of Mathematics of SFU, while expanding my horizons as to which postgraduate program to follow the future and to know the reality of being immersed in another culture very different from ours", he says.
Another one chosen by SFU and CI²MA is Sebastián Moraga, a student who will begin his fifth year of career in March, but who is already beginning to project his research ambitions.
"I am interested in the line of numerical analysis and differential equations, and equally enthusiastic about the area of ​​functional analysis. My intentions are to apply for a PhD program in the future, I hope outside the country. I still have not thought about the thesis, however I have no doubt that it will be in relation to these areas and their possible applications, "says Sebastián, although he acknowledges that the opportunity to make this stay in SFU surprised him. "The nomination was aimed at more advanced colleagues in the race and when I knew it was within the nominees it seemed that everything I struggled in these years had been worth. I hope to take advantage of every instance I have to know how research outside, how they interact and cooperate in their work, be able to be a support in some way or another and certainly learn what I can to bring it with me. This type of stay is a dream that I had since I entered the UdeC, it would not be possible without the coordination of part of the CI²MA and the contacts that it has formed over time ", emphasizes the student.
He was also selected to live this internationalization experience in North America, the 6th year student of the career, Juan Manuel Cárdenas.
"My interests to develop as thesis topics relate to problems of elasticity in non-convex domains, and the interaction of fluids with different media and interfaces," he explains and adds, "I welcome this nomination with great joy because it is a great opportunity for the Development of our knowledge in other universities with topics of our interest, since at this stage of my studies, we have been given the necessary tools to learn new topics or investigate some topics already seen. What I expect from my stay in SFU is to be able to be a contribution for the research that we will carry out, and the objectives that I propose is to be able to increase my level of knowledge, in Mathematics, as well as in the English language, facing subjects of my interest, and To be able to see other areas of work in the numerical analysis of EDPs ", says the student.
During the months that remain for the trip, the three students will attend an intensive English course, with a 50% covered fee by the UdeC International Relations Department, a tool that will allow them to be better prepared for this challenge.