Events of CI²MA
14 December 2011
:
La Serena Numérica I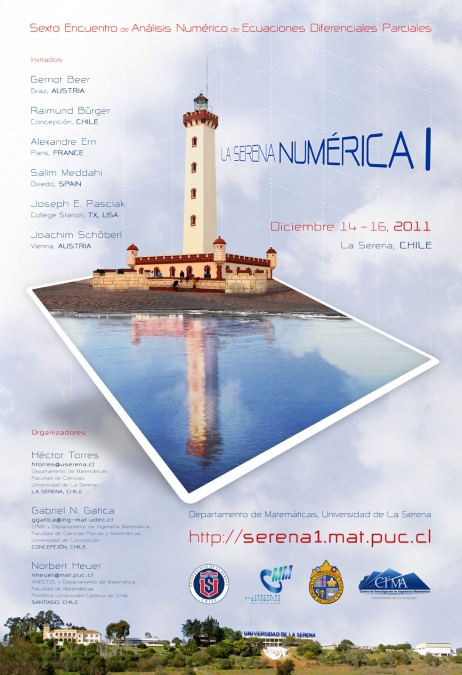 The academics Héctor Torres (Departamento de Matemáticas, Universidad de La Serena), Norbert Heuer (Departamento de Matemática, Pontificia Universidad Católica de Chile), and Gabriel N. Gatica, researcher of this center, are organizing LA SERENA NUMÉRICA I: Sixth Meeting of Numerical Analysis of Partial Differential Equations, to be held at the Universidad de La Serena, from December 14 to 16, 2011. The first three meetings of this series were held at the Universidad Técnica Federico Santa María in Valparaíso, and the last two in the Pontificia Universidad Católica de Chile, Santiago. The website of the latest version is http://numerico2.mat.puc.cl. This event is dedicated at all those academics and students who work or who are interested in the area of ​​Numerical Analysis of EDPs. In particular, the participation of graduate students, for whom some financial support is available, is strongly encouraged. As in the previous meetings, the idea of ​​this workshop is to bring together researchers and students from Chile and abroad to continue or start collaborations, and to learn about new topics and achievements in the above mentioned area.
It is suggested to make the registration as far in advance as possible because the number of exhibitors is limited.
The official languages ​​of the event are English and Spanish.
The official website is: http://serena1.mat.puc.cl
<< Return to the list of Events.